I have had a craving for more Japanese food after my great time in Little Tokyo the other day. I noticed on my walk back from the train station that there was this great little place called Kina sushi.
I ended up with the vegetarian bibimap (Korean), it came out on this awesome hot plate!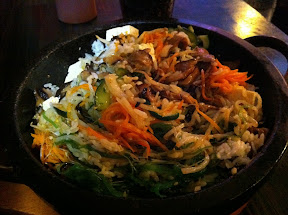 This morning I went for a 12km run through Hollywood and West Hollywood and ended up at Mel's again even though I tried to go somewhere else.
I has granola and yoghurt.
Note the massive bowl of granola in the background again. Today I was really hungry so I asked for more yoghurt so I could finish it off!
Ben is picking me up in about 30min and we are heading out to Malibu so that should be lots of fun! Tomorrow I head to San Diego for two nights, of course I splurged and got the business class seat.
- Posted using BlogPress from my iPhone