This morning I went for a climb up Runyon Canyon, unfortunately I only took my camera with me so views of LA will have to wait. After that long hike and getting lost in LA's theatre row I was decidedly hungry by the time I made it to Cafe Muse. The space is quite intimate and nice and quiet. The coffee is hot and comes in a large mug so all in all a great spot.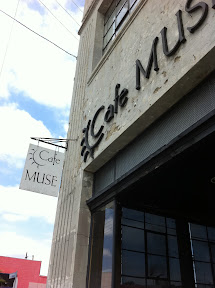 After a little wander down Hollywood Boulevard I got dressed and returned to Cafe Muse for a cup of tea before the show. I was sitting and enjoying a little oatmeal cookie when another patron approached me and asked me if I was an actress! She seemed adamant that she had seen me somewhere in a play and her friend stood there asking me if I was sure I wasn't a performer. Ah Hollywood!
The lobby of the Hudson theatre is decorated in warm reds and oranges and has a dirty artist lift feel. My favorite part though was this painting.
Seated in the theatre, here we go!
The show was amazing the cast was so talented and with such an intimate venue the audience felt so involved.
For dinner I headed west to Melrose and landed at Cecconis.
The waiters are charming, the decor is gorgeous and everyone seems very jovial. Can't wait for my dinner - orechiette with broccolini and garlic!
For dessert I had a chocolate fondant with pistachio gelato. Unfortunately no pictures as it wasn't the type of place where you can do that. Some exciting news though; Emmy Rossum was having dinner with an actor I recognize but can't name at the table right next to me!
My waiter was really lovely and invited me to have a drink at a benefit he is attending tonight to aid Japan so I'll have a diet coke to support that effort!
Tomorrow I am heading out to Pasadena to the Huntington Library to have high tea and look at their amazing Japanese garden and the rose collection. First I think I'll take another hike through the canyon though.
- Posted using BlogPress from my iPhone